Hotels in Cairo
Our top picks
Lowest price first
Nearest to
Best reviewed
Fast facts about Cairo, Egypt
| | |
| --- | --- |
| Accommodations | 2,482 properties |
| Popular hotel | Al Masa Hotel Nasr City |
| Popular area | New Cairo |
| Nightly rates from | $5 |
| Airport | Cairo International Airport |
| Reasons to visit | Museum & arts, Sightseeing, Culture |
4-star hotels in Cairo
7.3 Very good
Based on 86 reviews
---
I had sooooooo much trouble looking for the hotel. The local taxi drivers (not just one of them but a few of them) have no idea where the hotel is... One of them kept telling me that there is only two hiltons in Cairo, and we had to go to all two of them before we've finally arrived at the right one, the Cairo World Trade Centre Residence. When we arrived at the other ...
8.9 Excellent
Based on 65 reviews
---
Connection to Citystar Mall thru the basement. Check-in to one bedroom apartment, which can accommodate 4 adults. The apartment is big, provide comfortable bed but improvement required on the sofa bed. Complete cooking utensils provided in the apartment. Free laundry in the basement is very helpful. Breakfast is just ordinary but is sufficient and can bring the breakfa...
Samsulbahri
, Brunei Darussalam
8.7 Excellent
Based on 1070 reviews
---
I stayed for a total of 6 nights. I took a cab from the airport. I was charged 250 EGP. I suggest getting online and booking an Uber ride (it costs less than 200 EGP). You can buy a local SIM card at the airport for 200 EGP. Well worth it as it is cheaper to take Uber than regular cabs in Cairo. Everything with the hotel was fine-- strategic location, good (changing) ...
7.4 Very good
Based on 715 reviews
---
I stayedthere during my one day layover, from 5 am to 12:00 am. Shortly after I got off the plane (even before going through passport control), I met a hotel employee holding a paper saying my name. I was surprised cause I was not really sure if someone would actually come to pick me up, let alone before even entering Egypt. With the help of that hotel employee, I went...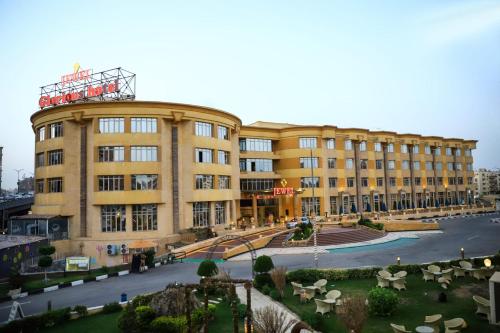 6.9 Good
Based on 67 reviews
---
I have to say Mr Wael is the best, he always did more than I asked for. Other staff were also very nice and helpful. Location is a bit far from city center, but not so far by taxi to City star- a big shopping mall which offers many options for eating. Shower room is tooo small, like 50*50cm, even difficult to stand in for people thin like me. Cleaning staff could had ...
5 Review score
Based on 9 reviews
---
The staff and owner are very accommodating and friendly. The location is very safe and convenient. The atmosphere that the marble tiles give really add a special feel. The rooms are spacious and have everything you need. I'll also mention the great antique building. Cairo heart is very clean, bed and pillows are comfortable with beautiful bedding. Ice cold bottles of w...
---
Real reviews for hotels
Great city to visit in the Arab world. Once does not understand the region unless he/she visit Egypt.
Never miss the Giza pyramids and Sphinx area Islamic old Cairo with Mohamed Ali mosque/citadel is not to be missed Egyptian Museum is also an attraction worth visiting
is the capital of Egypt and the largest city in the Middle-East and Africa. you have to visit pyramid, Al-Azhar Park, Egyptian Antiquities Museum, Mohamed Ali Mosque and Khan Al-Khalili st.
Messy,riot,striking,...... Too bad to have a city like that will never plan to visit again unless you are superb interest into pyramid until can give up your own security.
Cairo is a very dirty city in terms of traffic and cleanliness. it is also over populated. it is usual like and other tourist city people here try to make the most money from tourists by over charging for sight seeing.
City show which features the beauty and modernity and history, the people of Cairo kind in general, you can enjoy local excursions and nightlife, many cafes and restaurants, and most of them with beautiful sites, and good services.
I am very pleased.I am very pleased.I am very pleased.I am very pleased.I am very pleased.I am very pleased.
Now is the best time to visit Cairo (or anywhere in Egypt!) there are no tourists so no queues for any of the attractions.
Cairo is an amazing city, I love the people helpful and friendly ... I am fascinated flavorful food, unfortunately Cairo need more government influence to make it more attractive to tourism, there are a lot of garbage near the biggest attractions and a bit run the fronts of the buildings .
Cairo is an amazing city, I love the people helpful and friendly ... I am fascinated flavorful food, unfortunately Cairo need more government influence to make it more attractive to tourism, there are a lot of garbage near the biggest attractions and a bit run the fronts of the buildings .
cairo is a ver big city, full of adventures and history. the city never sleeps. the city mall is a heaven for shoppers, from high street shops to egyptian brands.
Is a ver busy city, shops are hardly closed. The roads are busy 24 hrs.good for shopping. Monuments, museums, malls and many historical site for tourist.
If you are going on your own, you need to be prepared for hassle by a lot of people along the way. It starts from the airport.
Personally I did not like Cairo. It just felt like a very hostile environment. Some Taxi drivers tried to rip me off.
We had a wonderful time even though we were there only for 3 days. It is a magical place, especially Giza and the Pyramids.
We didn't get to see much of Cairo as we were only there for 2 days during the election. We spent a day visiting the pyramids, the following day we went to the Museum of Egyptian Antiquities and we chilled at the hotel at the El Tahrir Square was getting busy due to the elections.
---
Frequently asked questions
What's the average price of a hotel in Cairo tonight?
The average price for a 3-star resort in Cairo this evening is USD 52. The typical price for a 4-star property in Cairo this evening is USD 121. The average price for a 5-star resort in Cairo tonight is USD 201.
What are the top resorts in Cairo close to City Stars Mall?
Verified tourists to Cairo who stayed near City Stars Mall have given exceptional evaluations to مخصص للعوائل فقط Four Elements, عمارة التيسير and بيت السمو.
What are the best properties in Cairo for two guests?
Hotels in Cairo that are significantly scored by couples include Al Masa Hotel Nasr City, Panorama Ramsis Hotel & Cafe and Ramses Hilton Hotel.
What are the top properties in Cairo for group tourists?
Properties in Cairo which are very highly rated by group tourists are Al Masa Hotel Nasr City, Panorama Ramsis Hotel & Cafe and Ramses Hilton Hotel.
What are the recommended properties located in Cairo that includes complimentary parking?
Properties with complimentary parking around Cairo that are very highly rated include شقة مكرم عبيد للعائلات B 20, Eastern Nights and Nile Eight.
What are the very best resorts around Cairo that have restaurants?
Hotels that have restaurants located Cairo which are very highly rated include شقة مفروشة دار مصر القرنفل بجوار الرحاب and فندق جاسمين ان - غرفة دبل.
What are the most suitable wheelchair accessible properties located in Cairo?
Wheelchair-accessible hotels located in Cairo that are highly rated include جراند هاوس مدينتى and Sheraton Ocean 601-A - Private apartments.
What's the top rated place to stay in Cairo next to a golf course?
Highly scored hotels around Cairo next to a golf course include Maison 7 New Cairo, Eastern Nights and Swanlake Luxurious Villa.
What's the best neighborhood for sightseeing in Cairo?
Best districts with plenty of tourist destinations in Cairo are Zamalek Island, Downtown and Heliopolis.
When should I make a trip to Cairo?
Last year, Cairo gained its most visitors during the month of November. However, make sure to consider other months during which there are fewer visitors, as the most popular sights will be less jampacked.
How long should I remain in Cairo?
In the past 3 months, travelers plan their stay in Cairo for 1 nights on average. The optimal length for your trip will be determined by what you'd like to see and explore while there.
Are foreign tourists allowed into Cairo?
International travelers are allowed into Cairo, according to our most up-to-date information. Due to evolving restrictions, we advise you to browse here for more details.
Explore more travel vacation rentals
More about Cairo
Discover the Top Reasons to Visit Cairo, Egypt
Cairo, the capital of Egypt, is a bustling metropolis that offers visitors a unique blend of ancient history and modern urban life. Located on the banks of the Nile River, Cairo is home to iconic landmarks such as the Pyramids of Giza, the Sphinx, and the Egyptian Museum. But beyond these world-famous attractions, there are many other reasons to visit Cairo. One of the top reasons to visit Cairo is its rich cultural heritage. The city has a long and fascinating history that spans over 5,000 years, and visitors can explore this history through the many museums, temples, and monuments scattered throughout the city. From the ancient ruins of Memphis and Saqqara to the medieval architecture of Islamic Cairo, there is no shortage of historical sites to discover. Another reason to visit Cairo is its vibrant arts and culture scene. The city is home to numerous art galleries, theaters, and music venues, and visitors can enjoy a wide range of cultural events and performances throughout the year. From traditional Egyptian music and dance to contemporary art exhibitions, Cairo has something to offer everyone.
Uncovering Fun Facts About Cairo, Egypt
Did you know that Cairo is one of the largest cities in Africa and the Middle East, with a population of over 20 million people? Or that the city is home to the oldest university in the world, Al-Azhar University, which was founded in 970 AD? These are just a few of the many interesting facts about Cairo. Another fun fact about Cairo is that it is known as the "City of a Thousand Minarets" due to the large number of mosques and Islamic monuments throughout the city. Visitors can explore these beautiful structures, including the historic Al-Azhar Mosque and the stunning Sultan Hassan Mosque. Cairo is also famous for its bustling markets, or souks, where visitors can find everything from spices and textiles to jewelry and souvenirs. One of the most popular souks is the Khan el-Khalili market, which has been a hub of commerce in Cairo for over 600 years.
How to Travel to Cairo: Tips and Tricks
If you're planning a trip to Cairo, there are several ways to get there depending on your location and budget. The most common way to travel to Cairo is by plane, with many major airlines offering direct flights to Cairo International Airport from cities around the world. Once you arrive in Cairo, there are several transportation options available for getting around the city. The most popular mode of transportation is by taxi, which can be easily hailed on the street or booked through a mobile app. Visitors can also use the Cairo Metro, which is the fastest and most affordable way to travel around the city. When it comes to getting to and from the airport, visitors can use the airport shuttle bus, which offers direct service to several locations throughout the city. Alternatively, many hotels in Cairo offer airport transfer services for an additional fee.
Experience the Best of Cairo: Fun Things to Do
There are many fun things to do in Cairo, whether you're interested in history, culture, or just exploring the city. One of the top attractions in Cairo is the Pyramids of Giza, which are the only surviving wonder of the ancient world. Visitors can explore the pyramids, take a camel ride, and even go inside the Great Pyramid. Another must-see attraction in Cairo is the Egyptian Museum, which houses over 120,000 artifacts from ancient Egypt. Visitors can see treasures such as the golden mask of Tutankhamun and the mummies of pharaohs. For a taste of modern Cairo, visitors can explore the city's vibrant neighborhoods, such as Zamalek and Downtown Cairo. These areas are home to trendy cafes, restaurants, and shops, as well as historic landmarks such as the Cairo Tower and Tahrir Square.
Why Book Your Cairo Hotel with Agoda.com
When it comes to booking a hotel in Cairo, there are many options available, but Agoda.com offers several advantages. With Agoda.com, visitors can choose from a wide range of hotels in Cairo, from budget-friendly options to luxurious five-star properties. Agoda.com also offers competitive rates and special deals on Cairo hotels, making it easy to find the perfect accommodation for your budget. And with 24/7 customer service and a user-friendly website and mobile app, booking your Cairo hotel with Agoda.com is simple and hassle-free.
The Best Time to Visit Cairo: A Seasonal Guide
Cairo has a hot desert climate, with long, hot summers and mild winters. The best time to visit Cairo depends on your preferences and what you want to do while you're there. If you're interested in exploring Cairo's outdoor attractions, such as the Pyramids and the Nile River, the best time to visit is during the cooler months of October to April. During this time, temperatures are mild and comfortable, with average highs in the mid-70s to low 80s. If you're looking for a bargain, the best time to visit Cairo is during the summer months of June to August, when hotel rates are lower and crowds are thinner. However, be prepared for hot temperatures, with average highs in the mid-90s.
Traveler's Guide to Cairo: Tips You Need to Know
If you're planning a trip to Cairo, there are a few tips you should keep in mind to make your visit as enjoyable as possible. First, be prepared for the hustle and bustle of the city, which can be overwhelming at times. It's important to stay alert and aware of your surroundings, especially when crossing busy streets. Another tip is to dress appropriately for the weather and cultural norms. In Cairo, it's important to dress modestly, especially when visiting religious sites. Women should cover their shoulders and wear long pants or skirts, while men should avoid shorts and sleeveless shirts. Finally, be prepared to haggle when shopping in Cairo's markets. Bargaining is a common practice in Cairo, and vendors often start with high prices that can be negotiated down.
Where to Stay in Cairo: Finding the Perfect Accommodation
Cairo offers a wide range of accommodation options, from budget-friendly hostels to luxurious five-star hotels. One of the most popular areas to stay in Cairo is Downtown Cairo, which is close to many of the city's top attractions and offers a range of hotels to suit different budgets. Another popular area to stay in Cairo is Zamalek, an upscale neighborhood on an island in the Nile River. Zamalek is known for its trendy cafes, restaurants, and shops, and offers a range of luxury hotels and apartments. For a more traditional experience, visitors can stay in Islamic Cairo, which is home to historic landmarks such as the Al-Azhar Mosque and the Khan el-Khalili market. This area offers a range of budget-friendly hotels and guesthouses.
What to Eat in Cairo: A Guide to the City's Best Cuisine
Cairo is known for its delicious and flavorful cuisine, which is influenced by Egyptian, Middle Eastern, and African flavors. One of the most popular dishes in Cairo is koshari, a hearty vegetarian dish made with rice, lentils, and pasta, topped with a spicy tomato sauce and crispy fried onions. Another popular dish is ful medames, a breakfast dish made with fava beans, garlic, and lemon juice, served with bread and eggs. Other must-try dishes in Cairo include stuffed pigeon, grilled kofta, and a range of delicious meze dishes such as hummus, baba ghanoush, and tabbouleh. When it comes to dining in Cairo, visitors can choose from a range of restaurants, from street food stalls to upscale fine dining establishments. Some of the best dining neighborhoods in Cairo include Zamalek, Downtown Cairo, and the historic Islamic Quarter.