Hotels in Cologne
Our top picks
Lowest price first
Nearest to
Best reviewed
Fast facts about Cologne, Germany
| | |
| --- | --- |
| Accommodations | 725 properties |
| Popular hotel | a&o Koln Neumarkt |
| Popular area | City Center - Old Town |
| Nightly rates from | $21 |
| Airport | Cologne Bonn Airport |
| Reasons to visit | Sightseeing, Shopping, Culture |
Luxury hotels in Cologne
---
When we planned our trip to Cologne, we knew we would want to stay near the station and the town center. Cologne Marriott Hotel definitely provides the best location. The service was OK, comparing to other hotels in Germany, this is one of the OK ones, the rests are worse. The staffs are not as friendly as we have expected for a 5 star hotel though, but acceptable.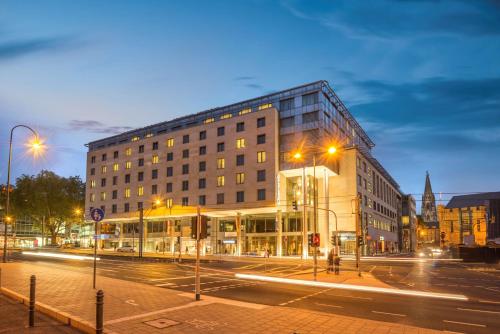 ---
We did a last minute trip to Cologne on the last weekend before Christmas. The Dorint Hotel was wonderful. It was convenient and centrally located. Great to be able to hit all the markets easily. The staff were incredibly helpful and welcoming.
---
Real reviews for hotels
German food is not very popular. Max Stark is a good German restaurant with excellent portions. Also you should check out the Nazi documentation center its really interesting and you can go downstairs to the cells and see the prisoners artwork.
The old-city has a romantic atmosphere.Cologne has besides the dom manny other lovely buildings to see and fun markets to visit.
I spent 4 days in Cologne in December and I absolutely loved the Christmas markets! it's a perfect time to visit the city, it's magical! I definitely recommend to visit the Cathedral with a guide, it's only 5 or 10 euros, but it's totally worth it!
My second visit to Cologne I hope to return some day It is a great city Dont get a taxi from the airport very easy using the train and a Tenth of the cost
It is a bit disappointing that the Cologne Cathedral right beside the train station is quite dirty and dark.
Koln is very beautiful and varied you will need at least a week to see enough of it. As with every town it depends what you go for as to what you get.
there is a lot of sightseeing to do in Koln from the most famous Cologne Cathedral (Kölner Dom), the Chocolate Museum, Fragrance Museum Farina-House and restaurants and bars everywhere right next to the Rhine river.
Cologne is a nice city to walk around and if you enjoy nightlife they have cool bars. That's not my interest but if you like shopping that's not going to be a deception as there are a lot of shops of all kinds.
too many places to visit for staying one night! next time I'll stay at least two nights and maybe it's better to go in summer instead of winter
Nice city. Go during the Christmas market season. Be careful, there are petty thefts at the crowded places so watch the purses/wallets.
A very cultural city in Europe, it used to be the capitol of the west northern area of Germany, so lots of historical churches/buildings to see.
just a normal city - dont spent to much time in it...in my eyes it isnt worth. The dome is ok, but i not worth to go there only for it.
We really enjoyed our stay in Koln, the Cathedral is beautifulas are the houses and bars along the Rhein.
nice city with great character. so much history because of the war. several key buildings still remain while most of the building are post war.
Cologne is just so full of History-- and life--from the Roman gates to the Gothics style of the local cathedrals and Churches to the modern architecture and definitely the lOCKS OF lOVE on the Hohenzollernbrücke Bridge.
Cathedral of Cologne, wonderful views, the Schokoladen Museum, a trip on the Rhine, go to a musical in the evenings, Sportmuseum, shopping areas: Schildergasse, Hohe Straße, Breite Straße
Great city with a lot of good shopping and a great choice of excellent museums. Nice walging allongepruik the river Rhine.
Very nice, peaceful and calm town. The people are very friendly too. After noticing that I have come with my wife and kid, the person at the information center suggested a different and a cheaper ticket.
Very nice quin area. Good to visit in December for the Christmas markets. The ambuience is good.People are very friendly adn offer help whereever possible.
Love Christmas time in Cologne. The Christmas markets are wonderful and the city is beaming with holiday excitement.
Cologne was suppose to be just a stopover-till we got there-fell in love and have been back several times--everyone would love it here--so beautiful!
The down town of the city is very lively hood and, many coffee shops and restaurants around the streets, and they stay open till late night.
Don't forget to visit some supermarket, DM and Rosseman shops, it's so reasonable for the quality and the price.
Summer time is good for sightseeing U can walk around this city , enjoy the foods and beers . Also have shopping street Nice view , if u like take photos it was the perfect place
Man Luka
, Hong Kong SAR, China
There are some nice cultural sight seeing places, river side is nice for walking, night life not so much colorful
Do go to a museum at Cologne. Just pick one of your choice. I went to NS-Dokumentationszentrum and Museum Ludwig, both of which are really impressive.
Besides the Dom, you may also spend some time to visit Bonn when you're in Koln. It's only 20mins by train.
Ying
, Hong Kong SAR, China
---
Cologne hotels with breakfast
---
Frequently asked questions
What's the average price of a hotel in Cologne this Friday and Saturday?
The average price for a 3-star hotel in Cologne this Friday and Saturday is USD 121. The average price for a 4-star property in Cologne this weekend is USD 163. The average price for a 5-star property in Cologne this weekend is USD 236.
What are the best resorts in Cologne for families?
Resorts in Cologne that are widely scored by families include a&o Koln Neumarkt, Kommerzhotel Köln and Hotel Ayun by Centro Comfort.
What are the best properties located in Cologne for business visitors?
Hotels located in Cologne that are well rated by business travelers are a&o Koln Neumarkt, Kommerzhotel Köln and Hotel Ayun by Centro Comfort.
What are the recommended resorts around Cologne that have swimming pools?
Verified tourists to Cologne have given out excellent feedback for the swimming pools at Hotel Lyskirchen, Leonardo Hotel Koln and Maritim Hotel Koeln.
What are the preferred accommodations located in Cologne that have restaurants?
Resorts with restaurants around Cologne which are well rated include Hotel An der Philharmonie, Savoy Hotel and Savoy Hotel.
What's the best resort in Cologne close to a amusement park?
Highly rated hotels around Cologne next to amusement park consist of First Domizil, Hotel An der Philharmonie and City Apartment am Hildeboldplatz.
What's the best area with nature getaway in Cologne?
A top nature escape location in Cologne is Lindenthal.
What's the best location for nightlife in Cologne?
Top neighborhoods for nightlife in Cologne are City Center - Old Town, Neustadt South and Neustadt North.
What's the best neighborhood for sightseeing in Cologne?
Top areas with plenty of tourist points of interest in Cologne are City Center - Old Town and Mülheim.
When should I make a trip to Cologne?
Last year, Cologne garnered its most visitors during the month of October. Regardless, make sure to consider other months during which there are a fewer amount of guests, as the most popular points of interest will be less crowded.
Is evidence of vaccination needed to enter Cologne?
Proof of COVID-19 vaccination is not required to enter Cologne from outside the country. For more information, please speak to local authority or check out here.
What vaccines are accepted in Cologne?
Pfizer/BioNTech, Janssen (Johnson & Johnson), Nuvaxovid (Novavax), Moderna Spikevax, AstraZeneca (Vaxzevria) are currently recognized and approved by the national health authority of the country that includes Cologne.
Explore more travel vacation rentals
More about Cologne
Discovering Cologne: Fun Facts and Reasons to Visit
Cologne, Germany is a vibrant city located in the western part of the country. It is the fourth-largest city in Germany and is known for its stunning architecture, rich history, and vibrant nightlife. Cologne is home to more than 1 million people and is a popular destination for travelers from all over the world. One of the most interesting facts about Cologne is that it is home to the famous Cologne Cathedral, which is a UNESCO World Heritage Site. This gothic masterpiece is over 700 years old and is one of the most visited landmarks in Germany. Another fun fact about Cologne is that it is home to the oldest fragrance factory in the world, the Farina Fragrance Museum. Visitors can learn about the history of perfume and even create their own signature scent. There are many reasons to visit Cologne, including its rich history, beautiful architecture, and vibrant culture. The city is home to many museums, art galleries, and theaters, making it a hub for the arts. Cologne is also known for its vibrant nightlife, with many bars, clubs, and restaurants open all night long.
Getting to Cologne: Transportation Tips and How to Travel Around
Cologne is easily accessible by plane, train, or car. The city is served by the Cologne Bonn Airport, which is located just 15 minutes from the city center. The airport is well-connected to major cities in Europe, including London, Paris, and Amsterdam. Travelers can also take the train to Cologne, as the city is served by several major train stations. Once in Cologne, travelers can easily get around the city using public transportation. The city has an extensive network of buses, trams, and trains, making it easy to navigate. Travelers can purchase a KölnCard, which gives them unlimited access to public transportation and discounts at many attractions and restaurants.
Where to Stay in Cologne: Top Accommodation Picks with Agoda.com
When it comes to finding the perfect place to stay in Cologne, Agoda.com has a wide selection of hotels to choose from. One of the top-rated hotels in the city is the Urban Loft Cologne, which is located in the heart of the city. This trendy hotel offers spacious rooms with modern amenities and is just a short walk from many of the city's top attractions. Another great option is the Ruby Ella Hotel Cologne, which is located in the trendy Belgian Quarter. This boutique hotel offers stylish rooms with unique decor and is just a short walk from many great restaurants and bars. Travelers on a budget may want to consider the Sonata City Hotel, which offers affordable accommodations in the city center. This hotel is just a few minutes' walk from the Cologne Cathedral and is a great option for those looking to explore the city on a budget. For those looking for a more budget-friendly option, the Motel One Koln-Messe is a great choice. This modern hotel offers comfortable rooms with all the necessary amenities and is located just a short walk from the Cologne Trade Fair. Finally, for those looking for a more social atmosphere, the Hostel Koln is a great choice. This hostel offers shared dormitories and private rooms and is located in the trendy Ehrenfeld neighborhood. The hostel also features a bar and lounge area, making it a great place to meet other travelers.
Exploring Cologne: Fun Things to Do and What to Eat
There are many fun things to do in Cologne, including visiting the Cologne Cathedral, exploring the many museums and art galleries, and taking a stroll along the Rhine River. The city is also known for its vibrant nightlife, with many bars and clubs open all night long. When it comes to food, Cologne is known for its traditional German cuisine, including sausages, sauerkraut, and schnitzel. Visitors should also try the local beer, Kölsch, which is a light, crisp beer that is brewed exclusively in Cologne.
The Best Time to Visit Cologne: Seasonal Highlights and Travel Tips
The best time to visit Cologne depends on what you're looking for. The summer months are the busiest, with many festivals and events taking place throughout the city. The winter months are also popular, as the city hosts several Christmas markets and other holiday events. Travelers should be aware that the summer months can be quite hot, with temperatures reaching up to 30°C (86°F). The winter months can be quite cold, with temperatures dropping below freezing. Visitors should dress accordingly and be prepared for the weather.
Traveling to Cologne: Essential Tips for First-Time Visitors
For first-time visitors to Cologne, there are a few essential tips to keep in mind. First, be sure to visit the Cologne Cathedral, which is one of the most iconic landmarks in the city. Second, try the local beer, Kölsch, which is a must-try for any beer lover. Finally, be sure to explore the many museums and art galleries, which offer a glimpse into the city's rich history and vibrant culture. Travelers should also be aware that English is widely spoken in Cologne, so communication should not be a problem. However, it is always a good idea to learn a few basic phrases in German, such as "hello" and "thank you." In conclusion, Cologne, Germany is a vibrant city with a rich history and culture. Whether you're interested in exploring the city's many museums and art galleries or simply enjoying the local food and beer, there is something for everyone in Cologne. With Agoda.com, finding the perfect place to stay is easy, so start planning your trip today!