Hotels in Doha
Our top picks
Lowest price first
Nearest to
Best reviewed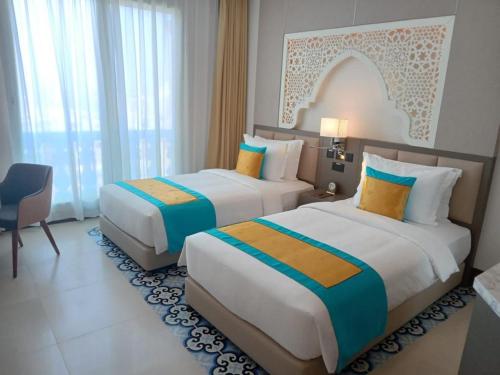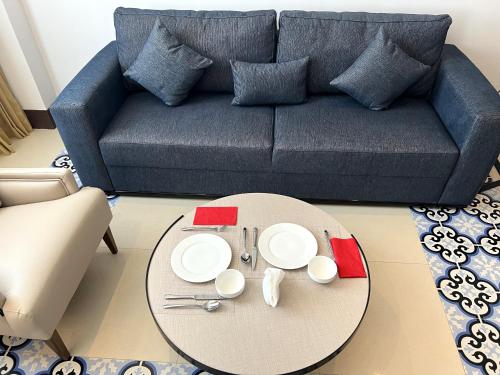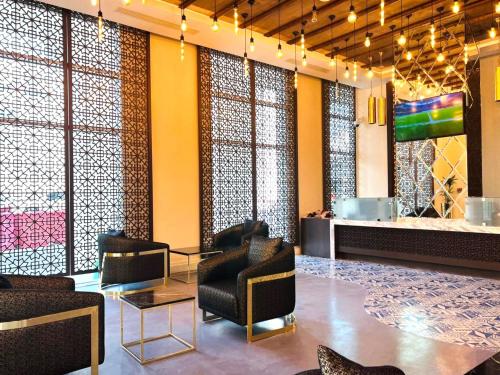 See all
Central Inn Souq Waqif
Old Doha City,Doha - View on map
Free Wi-Fi
Car parking
Fitness center
Restaurant
Spa
Family room
24-hour room service
Breakfast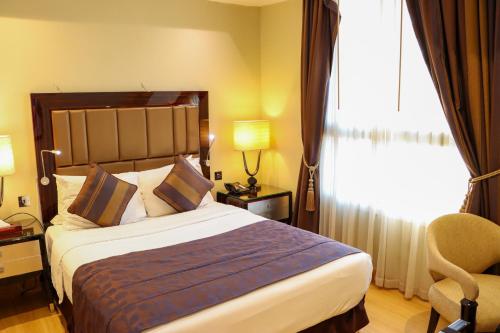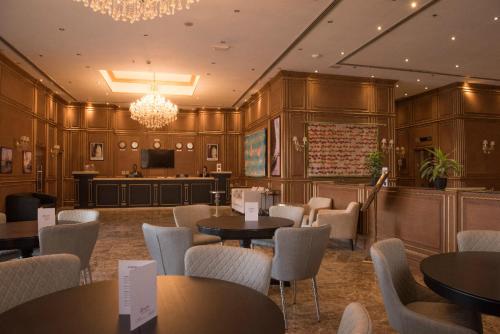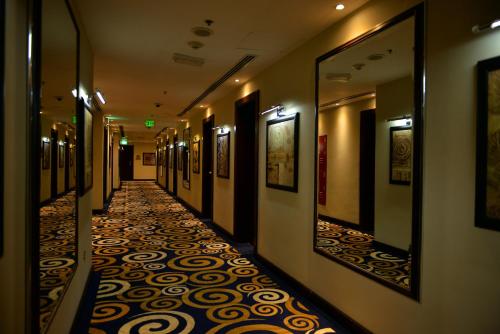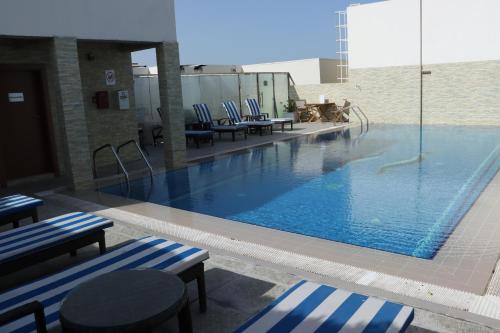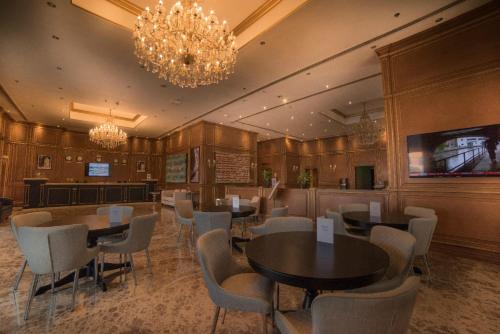 See all
Strato Hotel by Warwick
Airport Zone,Doha - View on map
Free Wi-Fi
Swimming pool
Free parking
Fitness center
Restaurant
Spa
Sauna
Bar
"The best service I ever had in my life! We're on our transit from London to Doha. So we got 11 hours in Doha, so we decided to book this hotel. We were there early to check in but apparently there's no room for us! But, we got so lucky that the assist. manager and the operation manager were to assist us! The operation manager were the best! He brought us to our room to place our bags and even bring us to their breakfast buffet spread eventhough we are there for just few hours! We had great few hours there and their service is EXCELLENT!!! Good job!! "
Show more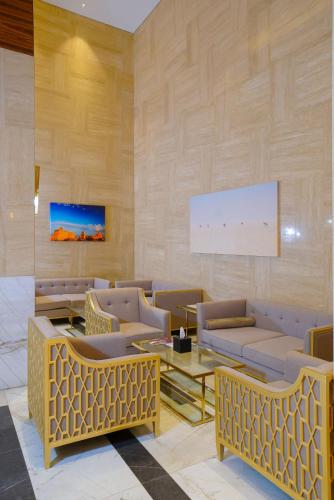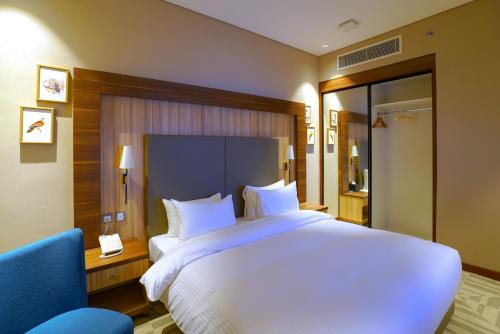 See all
Al Aseel Hotel
Old Doha City,Doha - View on map
Free Wi-Fi
Swimming pool
Free parking
Fitness center
Restaurant
Bar
Family room
Golf course
"Very clean and comfortable"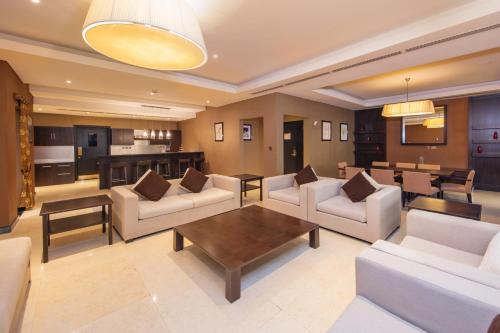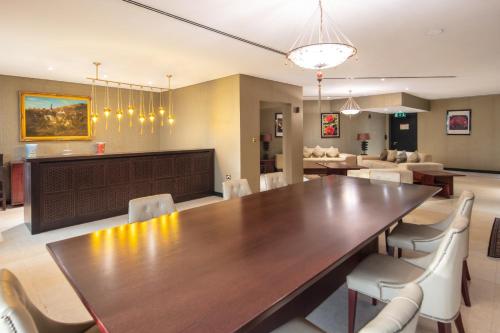 See all
Radisson Blu Hotel Doha
Al Muntazah,Doha - View on map
Free Wi-Fi
Pool with view
Free parking
Fitness center
Restaurant
Spa
Massage
Sauna
"My wife and I live in Doha and decided to celebrate our first wedding anniversary with an overnight stay at Radisson Blu; our favourite hotel in Doha. We had a marvelous 24 hours - eating, swimming, tennis, clubbing, and just a little drinking. Literally can't wait for our second anniversary, so we are planning another stay in September!"
Show more
Avg price per night
$ 138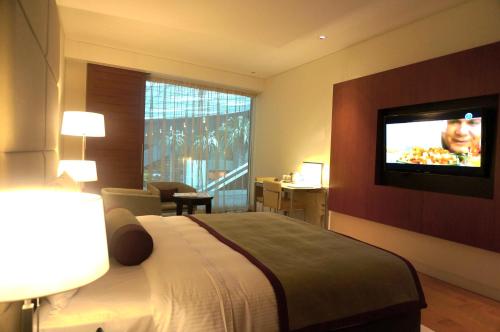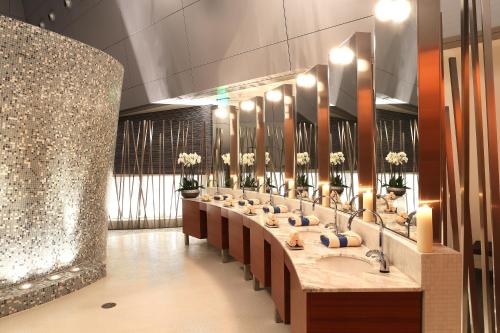 See all
Oryx Airport Hotel - Transit Only
Airport Zone,Doha - View on map
Free Wi-Fi
Pool with view
Car parking
Fitness center
Restaurant
Spa
Massage
Bar
"The hotel itself is located in a very convenient location inside the airport but is almost twice the price of a similar hotel in Doha. If you are after a comfortable place to stay in the airport for more than a few hours this is a good option. If you have a longer layover I would suggest staying somewhere outside the airport."
Show more
Avg price per night
$ 318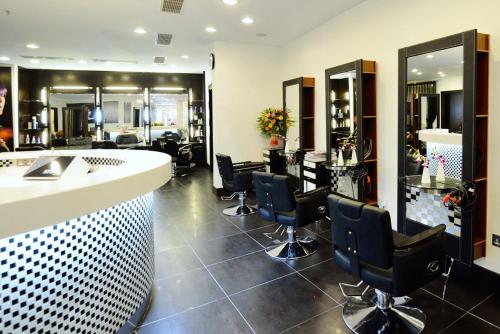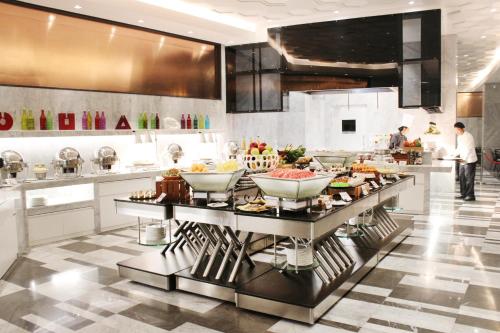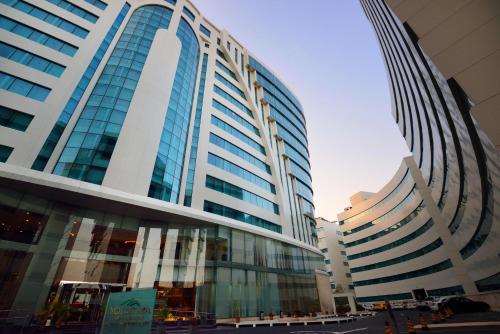 See all
Holiday Villa Hotel & Residence
Al Muntazah,Doha - View on map
Free Wi-Fi
Swimming pool
Free parking
Fitness center
Restaurant
Spa
Massage
Sauna
"I have stayed in many hotels in Doha and UAE. I make a point to stay in Holiday Villa when I'm in Doha because the hotel understand business traveler's needs. For example you can expect to get a warm welcome from multi-national receptionist when check in, unlike other hotels only have receptionist from Philippine and india only. You will also get to taste good & favourite food from South East Asia. I can invite my customers and business associates for meeting at hotel lobby follow with lunch and dinner. Lastly Holiday Villa is in central location of Doha, everyone know the location which makes it easy to arrange and meet in Hotel."
Show more
Avg price per night
$ 160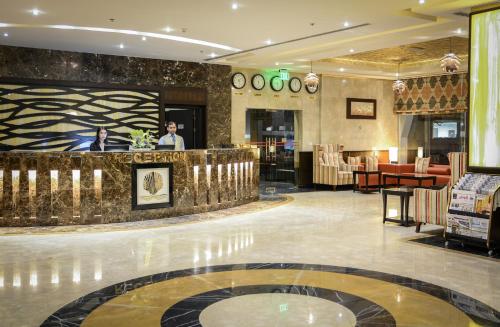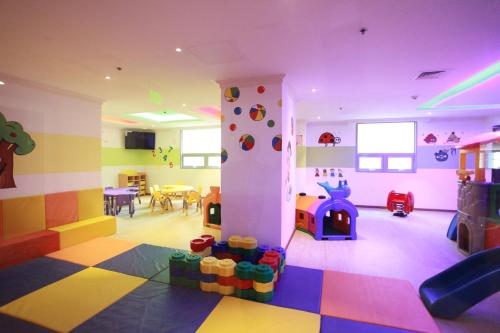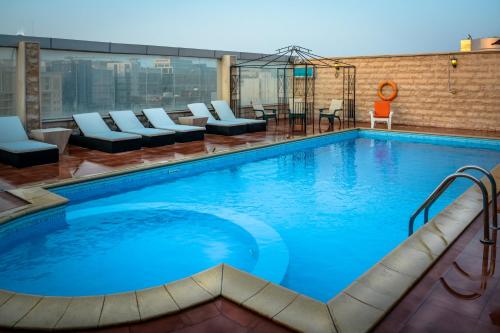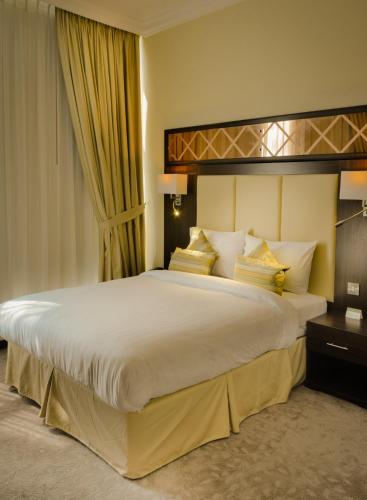 See all
Golden Ocean Hotel
Old Doha City,Doha - View on map
Free Wi-Fi
Swimming pool
Free parking
Fitness center
Restaurant
Pool (kids)
Kid's club
Family room
"We had a transit of 18 hours. A good hotel since 15 minutes from Hamad International Airport and about the same time to Doha new city. Except for the transit visa, everything was easy and managed to visit City Center Doha shopping. As we had to check-out before buffet breakfast was ready and we had paid for breakfast, the hotel was kind enough to provide breakfast in the room at 4am. The hotel also provides free shuttle to the airport. Although no time to enjoy hotel amenities and wifi was connected but not working, overall very satisfied. Please make sure wifi is corrected. "
Show more
See all
VIP Hotel
Old Doha City,Doha - View on map
Free Wi-Fi
Pool with view
Free parking
Fitness center
Restaurant
Spa
Massage
Sauna
"A five-star new hotel that functions as a 3+ star Simple : they are struggling through their soft opening. Very nice people, they try to do what they can to please you, and for that I would return. But they lack the vision of a foreign a traveler . They are going through changes and hopefully they will understand that there are not only our visitors but also western ones. Many improvements must be made to justify a five-star treatment such as breakfast level and other small things which sincerely I believe they will manage to bring the level up. I had a very good stay in an amazing room and lots of kindness throughout the day."
Show more
See all
Royal Mirage
Musherib,Doha - View on map
Free Wi-Fi
Free parking
Fitness center
Room service
Breakfast
Tours
Kitchen
Luggage storage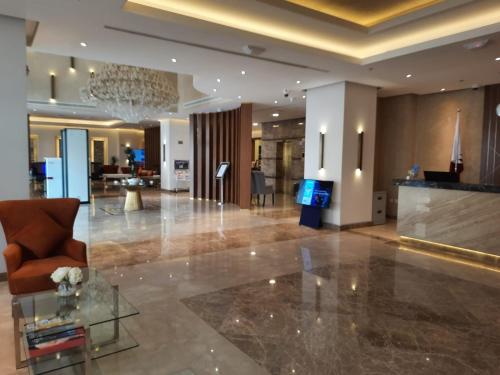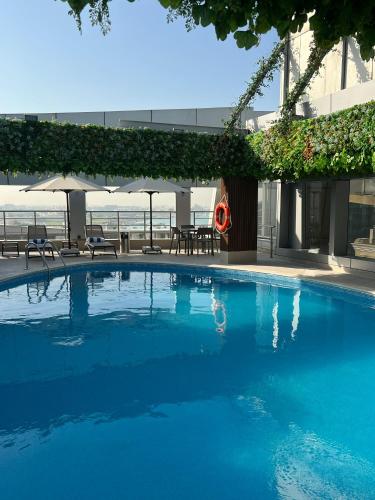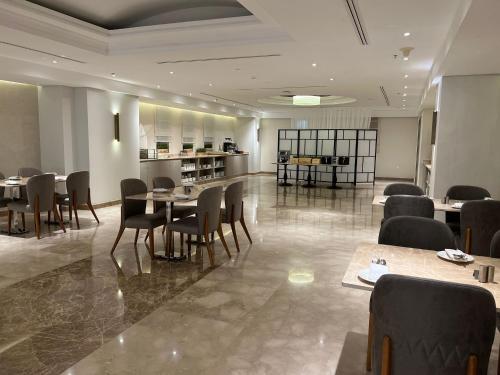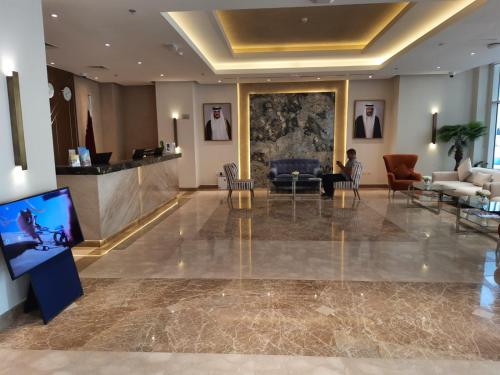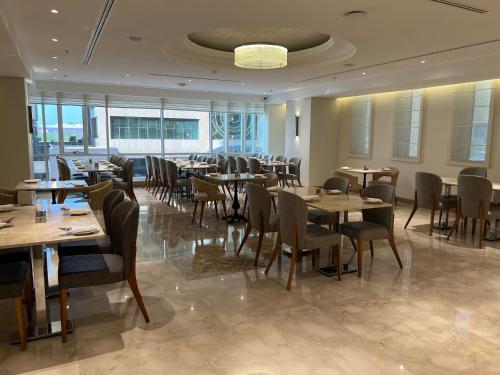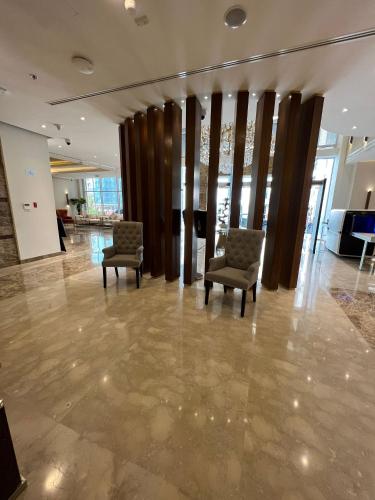 See all
Gloria Hotel & Suites
Old Doha City,Doha - View on map
Free Wi-Fi
Swimming pool
Free parking
Fitness center
Restaurant
Family room
Golf course
Balcony/Terrace
"This hotel is absolutely fabulous."
Fast facts about Doha, Qatar
| | |
| --- | --- |
| Accommodations | 660 properties |
| Popular hotel | Golden Ocean Hotel |
| Popular area | The Pearl |
| Nightly rates from | £24 |
| Airport | Hamad International Airport |
| Reasons to visit | Shopping, Beaches, Museum & arts |
Real reviews for hotels
Said it before, Doha is going in the right direction to become a good attraction for both business and tourism travelers
Doha still new to the tourism markets. Yet, you would see it progressing in the right direction. I believe sooner than expected, it will become reputable tourists direction.
As a single female traveler, Doha was extremely impressive. The friendliness of everyone and the overall safety I felt while walking even at night was wonderful.
Doha as i saw on internet it's a fantastic city clean modern and safe You can find all what ever you want also people polite and welcomes I hope that i will visit doha very soon
Doha has an impressive new Manhattanesque skyline. It is an expensive rich city with aspirations, geared to the rich locals and serviced by millions of slave-labour taxi-drivers and hotel workers imported from other Asian countries and from Africa.
Doha is really nice and new city their is too many things you can do in Doha the people their is very friendly and helpful i like Doha so much
Doha is booming and it is undergoing major contructions It is nice to visit but I do recommend visiting doha during summer season
Very fast grooving city with poor infrastructure. Trafic jams whole day long. Not many things to do after work.
DID NOT HAVE MUCH TIME TO VENTURE THE PLACE, OTHER THAN THE HOTEL. SEEMS LIKE IT IS A GOOD SPOT FOR EYE-OPENER
We were there for one day and a half and would stay longer . It is a growing metropolis looking to attract tourists and I am sure it will do this well.
Very beautiful city with very nice people and excellent shopping cheap prices as there is no tax or vat.
Doha is anice city but unfortunatel the concentration is on the new areas and the old ares are being ignored, especially when it comes to Roads, Kerbs and Footpaths.
You can check out the whole city in a very short time, but try to spend some time at Souq Waqif, have a Friday brunch at Coral Restaurant at Interontinental Hotel, take a trip to the turtle beach and just relax.
Doha City is a mix of new & old. Though not much of nightlife but during the day quite a few activities can be done.
Nice, joyful, attractive, quite. I can say its similar to Dubai on the beginning of growing, that's why I consider it for relaxing
Doha is a very clean and well managed city. Currently this city is moving from old city to new city. Therefore, we can see many modern and well designed building in the new city.
Interesting city with modern/contemporary architecture. Very clean. Worth a night or tw, when visiting the Arabian Peninsula.
At first I was a bit weary of going to Doha but after being there, I think the people at Doha is very very friendly! Most of them know English so communicating is not a problem.
Beautiful, clean friendly and safe...expensive! Liquor is sold only in hotels and is very expensive.
Frankly, speaking, the growing city may attract more visitors in future with its ongoing metropolitan plan
Much building taking place right now in Doha and the surrounding area with new road systems and metro being built, as well as many new buildings.
Doha is now known to the globa; changes happen everyday to Doha as it is gonna host the World cup 2022.
I feel Doha will be better after the FIFA World Cup in 2022. Now - and until then, I suspect - a lot needs to be done.
sually people come here to work, most of the crowd were immigrants whereby Philippines is the most. English would not be an issue and its a common language across in the country.
Doha is really not a good destination for tourism. Beaches rare far from the city, the city is very cowded of cars a big trafic.
I didn't have enough time to enjoy the city of Doha. My two days stay in Doha was very short and missed the chance to enjoy more.
MOHMAD ASARI BIN
, Malaysia
Very remarkable city, growing tremendously, facilities improving...buzzing with activities. Great charm about the cultural aspects.
did not really roam around because was on business trip. overall a good trip and good stay at the hotel.
A week long stay is enough to see the whole of Doha. Day 1 can start with the city tour checking out Musuem of Islamic Art, Fanar, Souqs and Doha Corniche.
Maria Czarina
, Philippines
Doha is coming up very fast in development and will be a good venue for visitors , games after 3-4 years , once City is developed as per new plans .
---
Frequently asked questions
What's the average price of a hotel in Doha?
The average price for a 3-star hotel in Doha is USD 65. The typical price for a 4-star hotel in Doha is USD 88. The typical price for a 5-star hotel in Doha is USD 204.
What's the typical price of a hotel in Doha this weekend?
The average price for a 3-star hotel in Doha this Friday and Saturday is USD 63. The average price for a 4-star property in Doha this Friday and Saturday is USD 88. The typical price for a 5-star property in Doha this Friday and Saturday is USD 204.
What are the best accommodations in Doha around Souq Waqif?
Verified travelers to Doha who stayed around Souq Waqif have given exceptional evaluations to Park Hyatt Doha, DoubleTree by Hilton Doha Downtown and Mandarin Oriental Doha.
What are the best resorts in Doha for two guests?
Properties in Doha that are exceptionally scored by couples include Central Inn Souq Waqif, Golden Ocean Hotel and Holiday Villa Hotel & Residence.
What are the best hotels in Doha for families?
Properties in Doha that are highly scored by families include Central Inn Souq Waqif, Golden Ocean Hotel and Holiday Villa Hotel & Residence.
What hotels in Doha have the best breakfast?
Verified travelers to Doha have given exceptional reviews for the breakfast at Al Najada Doha Hotel by Tivoli, Zubarah Hotel and Hyatt Regency Oryx Doha.
What hotels located in Doha are well rated for value for money?
Hotelslocated in Doha that is exceptionally rated regarding value for money include Citivilla Hotel and Service Residence, Almanzil Residence & Suites and The Ned Doha.
What are some of the top vacation rentals in Doha?
A holiday rental in Doha which is highly rated for service is Save your Transportation spends, The Best Location.
What are the prime resorts found in Doha with restaurants?
Accommodations which have restaurants around Doha that are well rated include 21high street residence and 21high street residence.
What point of interest should I stop by when I'm touring Doha?
Best destinations in Doha include Souq Waqif, Museum of Islamic Art, and The Corniche.
What's the best location with luxurious hotels in Doha?
Top district with luxurious accommodations in Doha are West Bay & Diplomatic Area, Old Doha City and The Pearl.
Is quarantine required for fully vaccinated visitors to enter Doha?
Quarantine may be required for fully vaccinated visitors to enter Doha from outside the country. For updated and in depth information on travel restrictons, please head over to the official websites of the travel authority or government of the country you wish to travel to, or go to here.
Explore more travel vacation rentals
Other popular destinations in Qatar
---
More about Doha
Discover the Best Time to Visit Doha for a Memorable Trip
Doha, the capital city of Qatar, is a year-round destination, but the best time to visit is from November to April when the weather is mild and pleasant. During this period, the temperature ranges between 20°C to 30°C, making it perfect for outdoor activities and sightseeing. The city is known for its hot and humid climate, with temperatures reaching up to 40°C during the summer months, which can be unbearable for some travelers. However, if you don't mind the heat, you can still enjoy the city's indoor attractions, such as museums, shopping malls, and restaurants.
Top Fun Things to Do in Doha for an Unforgettable Experience
Doha is a city that offers a plethora of activities and attractions for travelers of all ages. One of the top things to do in Doha is visiting the Museum of Islamic Art. The museum is a masterpiece of architecture and design, showcasing Islamic art and artifacts from around the world. Another must-visit attraction is The Pearl-Qatar, a man-made island that features luxury shops, restaurants, and stunning waterfront views. For those who love adventure, a visit to the sand dunes is highly recommended. You can go dune bashing, sandboarding, or take a camel ride for a unique desert experience.
Explore the Hidden Gems of Doha, Qatar: Fun Facts and Tips
Doha has a rich history and culture that is waiting to be explored. One of the hidden gems of the city is Souq Waqif, a traditional marketplace that dates back to the 19th century. The souq is a maze of alleys and shops selling everything from spices and perfumes to clothing and jewelry. It's a great place to immerse yourself in the local culture and try some authentic Qatari food. Another hidden gem is the Al Zubarah Fort, a UNESCO World Heritage Site that showcases the country's history and architecture. If you're looking for a unique dining experience, try dining on a traditional dhow boat while watching the sunset over the Arabian Gulf.
Why Agoda.com is the Best Way to Book Your Hotel in Doha
When it comes to booking a hotel in Doha, Agoda.com is the best choice for travelers. Agoda.com offers a wide range of hotels in Doha, from budget-friendly options to luxurious five-star hotels. You can easily find a hotel that fits your budget and preferences by using the website's filters and sorting options. Agoda.com also offers competitive prices, with discounts of up to 80% off on selected hotels. Another great feature of Agoda.com is the customer reviews section, which allows you to read reviews from previous guests and get an idea of what to expect from the hotel.
Traveling to Doha: Tips for a Hassle-Free Trip
Traveling to Doha is relatively easy, with several airlines offering direct flights to Hamad International Airport. Qatar Airways, the national carrier, offers flights to over 160 destinations worldwide, making it a convenient option for travelers. Once you arrive at the airport, you can take a taxi or use the public transportation system to get to your hotel. It's important to note that Qatar is a conservative country, and travelers should dress modestly and respect the local customs and traditions. It's also recommended to carry cash, as some shops and restaurants may not accept credit cards.
Where to Stay in Doha: The Best Neighborhoods for Your Budget
Doha has several neighborhoods that offer different types of accommodations for travelers. If you're looking for a luxurious stay, the West Bay area is the best choice. It's home to some of the city's most luxurious hotels, including the Saraya Corniche Hotel and the Strato Hotel by Warwick. For budget-friendly options, the Al Sadd area is a great choice. It's a residential area that offers several affordable hotels, including the Ezdan Hotel Doha. For those who want to be close to the airport, the Oryx Airport Hotel - Transit Only is a convenient option.
Indulge in the Best Food in Doha: A Guide to Local Cuisine
Qatari cuisine is a blend of Middle Eastern and Indian influences, with a focus on grilled meats, rice, and spices. One of the must-try dishes in Doha is machboos, a spicy rice dish that is usually served with chicken or lamb. Another popular dish is thareed, a stew made with bread, vegetables, and meat. For those with a sweet tooth, try luqaimat, a dessert made with fried dough balls and sweet syrup. Doha is also home to several international restaurants, including Italian, Japanese, and Indian cuisine.
How to Travel Around Doha: A Guide to Transportation Options
Doha has an efficient public transportation system that consists of buses, taxis, and the metro. The metro system is relatively new, with three lines that cover most of the city's main attractions and neighborhoods. Taxis are also a convenient option, with several taxi companies operating in the city. It's important to note that taxis in Doha are metered, and fares are regulated by the government. If you're looking for a more unique mode of transportation, try taking an abra, a traditional wooden boat that crosses the Doha Bay.
Reasons to Visit Doha: Discover the Beauty and Culture of Qatar
Doha is a city that offers a unique blend of modernity and tradition. It's a city that is constantly evolving, with new attractions and developments being added every year. Whether you're interested in history, culture, or adventure, Doha has something for everyone. From exploring the sand dunes to shopping at luxury malls, Doha is a destination that promises to leave you with unforgettable memories. So why not book your hotel with Agoda.com and discover the beauty and culture of Qatar for yourself?